Fundamentals of Working Visually
Attention Process Professionals: working visually is a POWERFUL method to boost your effectiveness with group and individuals. And it's taking the world by storm!
If you aren't working at least somewhat visually you are missing out on an important and strategic professional tool – as up to 82% of our clients are visual and kinesthetic learners.
Graphic Facilitation Training in Beautiful
Victoria, British Columbia, Canada
Early Bird Price: Ends April 23, 2018
3 Day Intensive: May 31 – June 2, 2018
In this training you:
*** Learn the four main ways of working visually with groups and individuals (studio work, graphic recording, graphic facilitation and graphic coaching) by literally rolling up your sleeves and diving in;
*** Learn what the best supplies are and where to source them;
*** Receive icon libraries, visual resources and step-by-step directions on how to integrate visuals into your own practice (no matter where on the visual spectrum you fall … no, you DO NOT need to be an artist to effectively work in a visual way);

*** Get precise, gentle, connect-the-dots instruction on how to 'draw' … I sneak it up on you so get beyond any 'art phobia', fear or comparison problems you might have about your creative abilities (this work is really about PROCESS not art);
*** See varied examples and hear detailed explanations of real client work (culled from my two decades of working nationally, internationally and digitally with corporate, not-for-profit, governmental and individual populations);

*** Get instant access to 5 Bonus Videos: Working Visually & Neuroscience, Products & Supplies (The Grove Consultants and Neuland), The Ins and Outs of Explainer/Whiteboard Videos, and How to Work Virtually Using Online Tech);
*** Receive supportive coaching on which steps to take to build or enhance your visual career (I've successfully mentored hundreds of people from around the world and YOU CAN do this work too!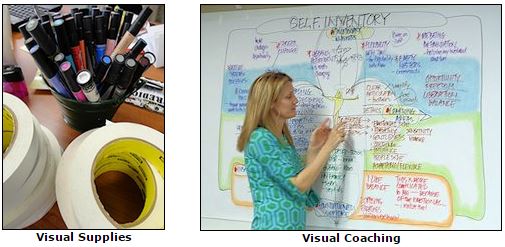 *** Connect with individuals from diverse backgrounds and locations also interested in this visual niche — your visual tribe! Including an ongoing eCommunity of past grads from around the globe.
Click Here for Full Details and Registration
Event Date and Time:
Thursday, May 31, 2018 - 9:00am
Event Type:
Workshop for Graphic Recording / Visual Facilitation Training