FUNDAMENTALS OF INTERACTIVE-VISUALS: HOME STUDY KIT
Visual Skills For Process Work With Groups And Individuals
18-Module Home Study: Visual Skills for Process Work with Groups and Individuals. Full Details and Immediate Download
For managers, consultants, facilitators, trainers, coaches, therapists and other group leaders. And for artists, illustrators, designers, graphic recorders and other creatives. Over 87% of your clients (or employees) are visual thinkers – learn powerful visual skills to boost the effectiveness of how you work or communicate with them. This professional 18-Module Home Study Kit, thoroughly covers the four ways of working visually: studio work (pre-prepared charts & videos), graphic recording (visual summary notes), graphic facilitation (process work with groups) and graphic coaching (process work with individuals). This is the Home Study version of my internationally acclaimed training.
HOME STUDY CURRICULUM: 18 TRAINING MODULES
The curriculum in The Fundamentals of Interactive-Visuals Home Study Kit is the same that I teach in my live training. In fact, you follow a 9-week live class (who meets twice a week online via webinars) as they make their way step-by-step through my material. I guide you, in the same order as the class you are watching. You witness their ahhas and insights and in turn apply the material to the specifics of your own situation.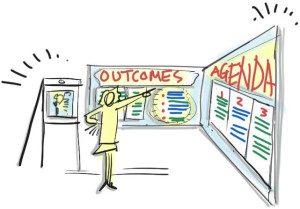 1. Kick Off
2. Context & Definitions
3. More Definitions & Benefits
4a. Space, Supplies & Create Your Studio
4b. Hanging Paper, Graphic Aerobics & Lettering
5. Zen of Icons
6. Formats & Your First Studio Piece
7. Feedback
8. Graphic Recording: Demo & Assign
9. Feedback
10. Graphic Facilitation: Demo and Assignments
11. Feedback
12. Graphic Coaching: Demo and Assignments
13. Christina's Coaching Journey & SHIFT-IT
14. Photo Management, Documentation & Reports
15. Money, Marketing & Biz Development
16. Mindset and Resistance Busters
17. Next Steps and Action Plans
18. Class Closure and Implementation Coaching
PLUS BONUS VIDEOS:
The Neuroscience of Working Visually with Dr. Mandy Wintink;

The Ins and Outs of Whiteboard Videos with Liisa Sorsa and Disa Kauk;

Working Virtually (digital technology: tablets, smartboards, etc.) with Rachel Smith;

Materials and Supplies with Laurie Durnell of The Grove Consultants;

Materials and Supplies with Guido Neuland of The Neuland Company.
PLUS VALUABLE IMPLEMENTATION SUPPORT:
Free Membership in our

Working Visually eCommunity

(Online Forum, Monthly Live Drop-in Webinars and Video Library of Past Sessions … THIS IS A VERY VALUABLE PERK);

Qualification for "Free Repeater Option" to join any live online offering of the training (in case you lack the discipline to work through the material all on your own or want some companionship!).
YOUR TRAINING INVESTMENT:
When you take valuable professional training don't just look at what it costs, look at what it's truly WORTH to you overall. The going day rate for Visual Practitioners is $500 on the low end and $2500 on the mid-range. Some higher-end consultants using visual methods charge $5000+. My day rate is $3000, so in essence, I'm teaching you my craft for less than what it costs to hire me for one day.
The cost of this training can be recouped quickly using your new skills. Or if you're internal, in the satisfaction of doing your work in a whole new way that pleases you and your employer (perhaps saving them from having to bring in an external resource). The price of this training is very fair given how you are being 'taught to fish' – a skill that can keep you fed, happy, and intrigued for years to come (let alone all the great insights, breakthroughs and results your clients will reap). As you can read in the testimonials, some participants recoup their investment within weeks and many go on to create new careers or enhance existing ones.
Also, an important FYI … fees are in Canadian funds. Currently, the Canadian dollar is low (it hasn't been this low for a decade), so for Americans, Europeans, and some other locales, this translates into additional savings for you! Now is a really good time to secure these highly useful skills. See currency converter.
Event Date and Time:
Tuesday, October 1, 2019 - 9:00am
Event Location:
at your own pace
,
BC
Home Study Kit
Canada
Event Type:
Graphic Facilitation Self-Paced Online Training: From Your Office or Home